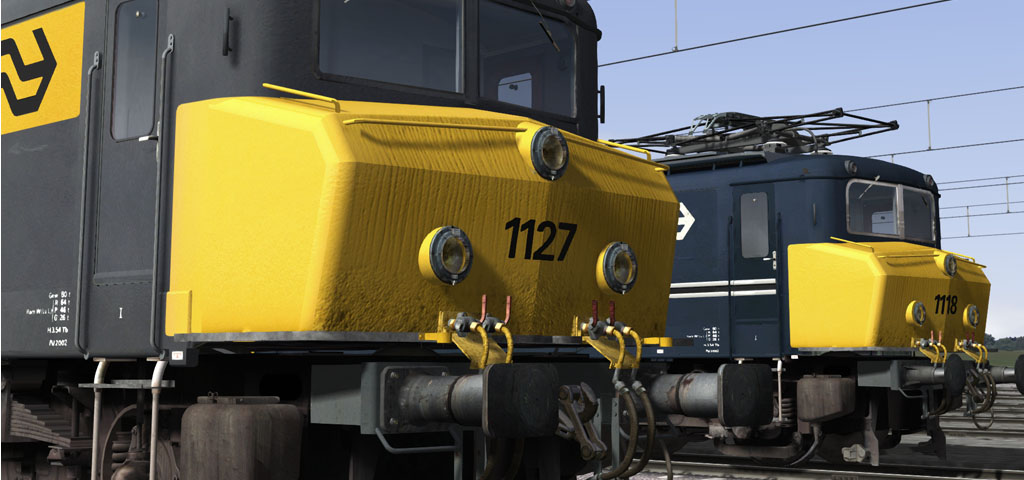 In the real world, this engine can only be seen in the museum, but on your virtual railways you can let this engine come to life again: the engine series 1100 of the Dutch Railways. The 1100 series was built and put into service from the fifties of the twentieth century. Many engines of this well-known type could be seen in The Netherlands in the second half of the last century. The engine was active in a large number of train services from freight trains to express passenger trains. The engine was built after French design, with which the first version of the engine shared a number of features, such as the decoration lining on the sides of the engine.
A small number of these engines have been saved and are shown in railway museums. In this add on you find the 1100 in all editions in which it has been active: classical turqois, the standard Berlin blue color scheme (with and without Dutch Railwats logo) and also you find the versions with yellow-grey color scheme and the versions with added 'collision node' which was constructed in order to give the engine driver better protection in case of collisions.
You can order Dutch Classics 5 as digital download or as DVD version.
Engine types included:
NS 1100 turqois

NS 1100 Berlin blue, two point and three point headlights, with and without modern Dutch Railway logo

NS 1100 Yellow-grey color scheme with three point lights

NS 1100 Berlin blue with yellow 'collision nose'

NS 1100 Yellow-grey color scheme with yellow 'collision nose'

All engine types are available in a simple mode edition and in an expert mode edition
Features:
Detailed 3D models provide a very recognizable engine, also from close distance and in high resolution.

Simple mode for easy operation

Expert mode for more realistic train operation with a number of interesting added features, such as the option to overload the engines and building up air pressure for braking. Also the option for individually switch the head and tail lights, amongst others

Original built cabin which is specific for the 1100, built after many pictures and drawings

All switches, buttons and lights in the cabin are functional and work just like in the real engine as far as we could script it in Train Simulator

Double regulator including the auxiliary regulator with weak field controller for operation of the engine

Sound effects, derived from the originalGeluidseffecten, ontleend aan het grote voorbeeld

Extensive instruction manual of 50 pages in Egnlish language in which all functions are explained. For expert mode you wil really need the manual to get started!

Keyboard template for all keyboard commands you need to drive the engine in expert mode

Scenario's for the Seebergbahn (DTG route which is available from Steam) so that you can get started quickly after installation

Quickdrive consists for the individual engine and in combination with a number of other types of rolling stock. Quickdrive consists for use in combination with the passenger coaches of Dutch Classics Megapack 1 are included, so that you can drive original trainsets after real world examples